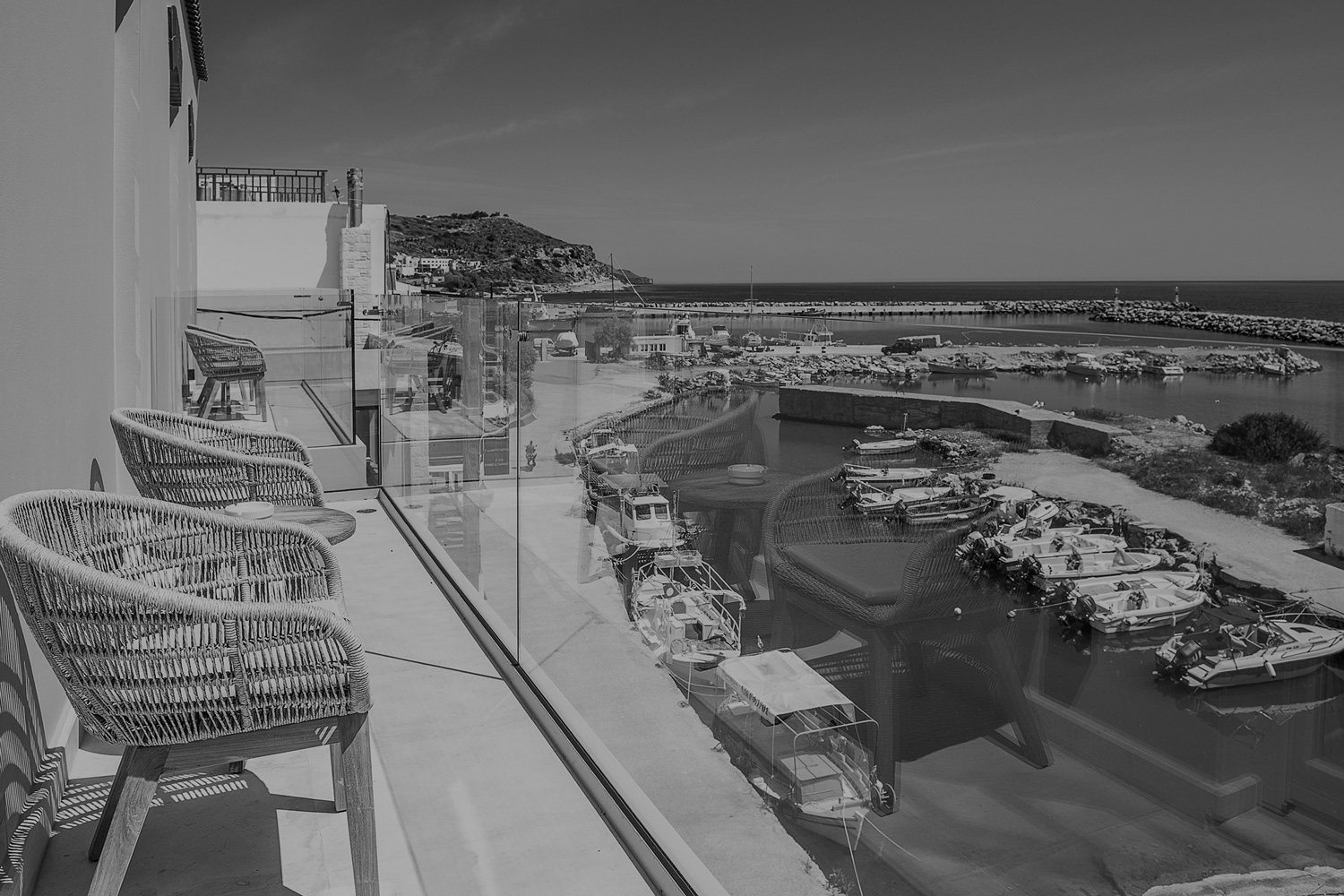 AVRA APARTMENTS IN KOLYMVARI HARBOUR
Kolymvari luxury at its best
SCROLL
KOLYMVARI LUXURY AT ITS BEST
Avra Apartments in Kolymvari harbour are the highlight of luxury accommodation in one of the most tranquil, yet interesting villages you will find in Crete.
With its excellent location, which combines ample sea views with a minimal distance to the village center, these luxury Kolymvari apartments are there to provide you with a totally new accommodation experience.
Avra Apartments, Kolymvari – Luxury redefined
Every single detail in the apartments is designed in order to blend luxury with local village life. After all, one of the main reasons visitors from all over the world choose Kolymvari for their vacation, is the superb way it combines the traditional Cretan village feeling with the ample amenities and facilities.
While staying in Avra Apartments, you feel like you are in a protected haven with generous strokes of luxury. Yet, at the same time, you are a stone's throw away from Kolymvari center, where you can find everything you may need.
Apart from their common great location, every apartment offers you a distinct accommodation experience.
Idomeneus and Miletus are the apex of luxury in Kolymvari accommodation, with their marble en-suite bathrooms and spacious, fully equipped kitchen and living room areas. Their superb elevated sea views will certainly be a highlight of your stay.
Nephalion and Demophon, on the other hand, provide a more down-to-earth feeling, blended with discrete luxury and smartly designed interiors. Their location right in front of the picturesque Kolymvari harbour, along with their sun-kissed terraces, offer an accommodation style closer to local village life.
AVRA APARTMENTS, KOLYMVARI - A PLACE WORTH COMING BACK TO
The luxury and design of the apartments are necessary for an eclectic, unforgettable stay. But the same is true for the destination, too.
Kolymvari village is a place with many visitors that come back again year after year. It is a tranquil place, that brings you closer to the essence, the heart of Crete, which is its authentic village life.
At the same time, the village is in a relatively short distance from the famous Chania City, with its Venetian Harbour and Old Town. This magnificent city is where you will find yourself wandering around for hours and hours, always discovering something new to see and experience.
Kolymvari provides the ideal scenic background for your next vacation or getaway. With its great location on the foot of the long Rodopou Peninsula, it offers the greatest "natural" luxury of all, its majestic surroundings and views.
Kolymvari beach is another great advantage of the village. Situated literally next to the apartments, the beach is part of a great coastal zone that extends for kilometers, up to neighboring Platanias and Agia Marina.
However, in Kolymvari you will not find all the people and the noise of its eastern neighbors. Here, visitors are fewer and select, and the splendid beach is all yours to enjoy and explore.
Avra Apartments in Kolymvari Harbour are a great way to experience this one-of-a-kind corner of Crete in luxury and style. During your stay, you will be amazed with all the details that have been thoughtfully considered in order to make your stay more comfortable.
It's not easy to successfully combine top accommodation with local village life. But in the luxury Avra Apartments in Kolymvari we have managed to do exactly that: give you the best of these two worlds.